You may or may not remember when I said this a long time ago when I was babbling about firearms…




Another rifle I would dearly love to own is an M1 Garand.

My uncle has one. He should probably gift it to me, as I am his favorite nephew. Sorta.

Anyhoo…I have had Garand fever ever since I started playing Medal of Honor video games and saw the Band of Brothers TV series. The sight of heavy rates of .30 caliber rifle fire tearing German flesh asunder has stuck with me.

I want to do something like that also, except with paper targets. I don't have a problem with Germans now.

They are cool in my book.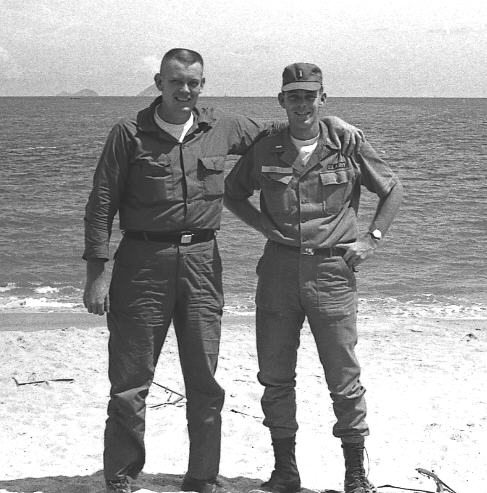 My dad (left) and my uncle (right), at Nha Trang Vietnam, 1966.


Well…My uncle, a Vietnam vet, and therefore cool, gave me something today I have been wanting for a long time. It's almost as if he read my mind, or this blog, or something. Maybe.

I'm as giddy as a (well-armed) schoolgirl!
It's a Springfield Garand, with a serial number of 1009XXX, indicating November-December 1942 year of manufacture.

The furniture is a little beat up and the finish isn't pretty. I haven't field stripped it yet, as I am of the M16A1/A2 generation...and I don't know how...but I'll learn.

I don't know what the barrel or bore looks like yet, but the exterior metal surfaces have a very nice parkerized finish with no rust or pitting.

It seems to function OK so far as I can tell with my limited knowledge. I can work the bolt, and it goes click when I pull the trigger.

I plan on downloading and printing the Garand manual and learning all I can about this battle rifle. I will also take it to a knowledgeable gunsmith to make sure it is in good working order, because I will be shooting it!

I'm so happy I just might crap the bed tonight.
__________

I pulled the trigger group out. It is numbered D28210-12-SA...I'm assuming an authentic Springfield Armory assembly. It looks like brand new. Very little wear and is very stiff. Had to lube it a little to get the safety to function. Looks good to me!


Upon further field stripping and inspection, the barreled receiver group looks just as good. Entire mechanism appears to be US Govt. issue, with no phony foreign/aftermarket parts. Very little wear. I'd say this rifle was gone through and refurbished at least once by a military armorer, and fired very little.


The mechanicals are in much better condition than the furniture would suggest...which is a great thing, I think, since it will be a shooter. No safe queens in my collection!
Even though it's looked down on by the elite Garand snobs, I will most likely refinish the wood. Or I could always buy new wood and keep the old stuff.

So many decisions....
__________


I researched some proof marks on the Garand stock, and they indicate that the stock was made somewhere from June 1953 to June 1957. During that time frame, Springfield made rifles with serial numbers between 4,320,000 to 6,099,905.
Stamps used to make proof marks (Photo courtesy Fulton Armory)


If you remember, my rifle's serial number is 1,009,XXX...indicating that the wood and the upper receiver are not original. This is more common than not, seeing as these rifles were retrofitted and repaired, usually more than once, during their service life.
Even though these facts probably lessen the value of my rifle, it doesn't matter to me, but it would to a snot nosed and snobby elite Garand collector geek...and there are a lot of those types of people out there these days.

Get this...

My 16-year-old son, a firearms fanatic also, said I should put one of these on my Garand!



I think not.
I laughed heartily and ridiculed him and said, "Oh no! I can't hit the target without a pretty red laser dot showing me where I'm aiming. Iron sights are too difficult to figure out."


He has played too many video games, and I am a bad and unfeeling dad.
__________

Looking closely at the barrel near the front sight, I found "ARL ORD ARLINGTON VA."

A little intardnets searching reveals Arlington Ordnance was a company that imported old original GI M1 Garand and carbine barrels from Korea back in the Reagan era, and then refurbished them.
I saw a few folks on the 'net saying good things about "arsenal rebuilt" Arlington Ordnance barrels, but I don't know.

On another internet site, I was describing my Garand. A battle hardened and crusty Marine asked me what the "barrel date" was.


I had to ask, "How does a pogue reservist poseur such as myself determine barrel date?"

His reply, "If you pull the operating rod back, the date should be on the right side of the barrel, in the general vicinity of the space previously occupied by the op rod.
"

So...I did all this, and found "1SA4 45" and then further up where the barrel necks down there is a "P" ....

Therefore, using my ultra-secret Garand date-code decoding manual, I can assume it's a Springfield Armory barrel dated April 1945!

Awesome!
__________

I had a guy see the picture of the trigger group, and he says it's late WW2 or Korean war vintage.
Not that it matters to me, but it's turning out that the rifle is what the Garand dorks call a "mixmaster"...assembled from a collection of serviceable parts. Again...not uncommon after a 30 year service life, and perfectly fine for a "shooter"...a firearm used for recreation, and not stored in a safe for collector value.
Believe me...I ain't knockin' the rifle. I couldn't be more pleased that my uncle thought enough of me to give it to me.

It means a lot.
__________


I have read where the receivers and barrels of Garands were sometimes retrieved from the trash after "de-milling." De-milling involved cutting the parts into pieces and making them un-usable. Well...seems some unsavory characters would weld the pieces back together and grind out the weld seams and then re-sell the parts.
A cut and re-welded M1 Garand receiver before the weld was ground out. This is extremely nasty and heinous! (Photo courtesy Garand Collectors Association)

A cut and re-welded M1 Garand receiver after "dressing up" the weld location. Horrific!
(Photo courtesy Garand Collectors Association)
I'm happy to report that this rifle bears no evidence of having a re-welded receiver or barrel. It all looks solid and new.

I have just discovered that my Garand is equipped with a National Match operating rod, part # 7790722-RA.

Any fool knows that a National Match operating rod, made by Remington Arms, is way more better than a regular old run-of-the-mill and shitty government issue operating rod, because it was "manufactured with a slight clockwise twist to hold them more snugly against the bolt ear, and was used on National Match rifles after 1962 as well as on armory rebuilds throughout the sixties."

No shit.

I am aroused.

More later as I discover it.
I have decided, much to the chagrin and horror of the Garand snobs, to try my hand at refinishing the walnut "furniture" on my beloved M1.

This is what she looks like...stripped of all her metal parts...in all her naked walnut glory.
I scrubbed her down in the bath-tub in warm soapy water. Then, I gave her another vigorous once-over with a stiff bristled brush and Bar Keeper's Friend.

Very sexy...

She likes it like that.

She is a dirty whore.

I need a smoke.